Are celebs even aware of inventions such as television and the internet?
My fascination with Paula Abdul on American Idol still continues. Her drunken or drugged out ramblings are by far the best part of the show.
However, during an interview with a local TV network, she really stepped over the line. She was so drunk that she could barely sit down. I actually thought it was a Saturday Night Live skit as she rambled, flirted, pointed and almost slipped off her chair and that was in the first 30 seconds of the interview.
According to a spokesperson for Abdul, she was, wait for it...
exhausted
.
This was at the end of three days of press (interviews and appearances), and she has had cameras following her around for a reality TV show, too," said Jeff Ballard.
Here is the clip from youtube. Judge for yourself.
This, of course, will not be enough to make me watch American Idol this year. I do sometimes enjoy the first shows where the hundreds of people get to try out. Last season, I was immediately hooked by eventual winner
Taylor Hicks
. Here he is singing the song The Runaround.
Top 5 Doobie Brothers songs.
1. Black Water
2. China Grove
3. Listen To The Music
4. Takin' It To The Streets
5. South City Midnight Lady
But, I can't see me making it through another full season of that show. No matter how entertaining Paula Abdul continues to be. It makes you wonder if this was all a joke just to get even more people to watch American Idol.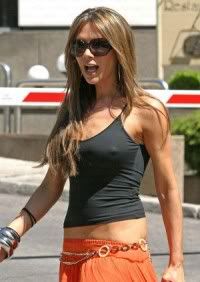 There is a conspiracy theory being floated around that this is all to kick Abdul off American Idol and replace her with
Posh Spice
(also known as Mrs. David Beckham). She is now going to be living in LA as her
husband recently signed a ridiculous contract to play for the Los Angeles Galaxy of the MLS
.
Her judging on American Idol is pretty ironic since I don't believe she ever actually sung on any of the Spice Girls songs. They didn't even hide that in the videos, she doesn't actually appear to be singing in them either.
Labels: TV