Cover To Cover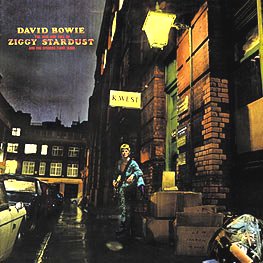 The art of the album cover has really died with the advent of the CD. They are now too small so really, all you know get are glamour shots of the performer. Not that I miss the sci-fi crap covers of Boston, Yes and Journey but certainly, they were a heck of a lot more interesting than what we are getting now.
Photographer/writer Chris Epting is about to release a book with pictures of where album covers were shot and how they look today. On his official website,
he has a page with ten examples including David Bowie's Ziggy Stardust and Bob Dylan's Freewheelin' Bob Dylan
.
I don't know if I could even come up with my top 5 album covers. Really, in the end, it never made a difference to me. It's not like I have ever listened to an album and said, "damn, the music sucks but the cover is so good it just doesn't matter."
The Scorpion's Lovedrive always made me laugh...even though I am not sure what it means.
Roxy Music's
Country Life
has that titilation factor, but again how does it sell the music. Though Country Life IS probably my least favourite of their albums.
Top 5 Roxy Music Songs
1. Street Life
2. Do The Strand
3. Virginia Plain
4. More Than This
5. Avalon
Speaking of album covers, youtube has this wacky new short featuring album covers fighting each other. It is pretty funny.
Speaking of records,
Tower Records looks to be closing down in the US
. I guess this is an example of technology really killing an industry. I remember as a teenager being fascinated by record stores. Always looking for good tapes at Cheapies down on Young Street. If I could find one I wanted for $7.99 or less, I was ecstatic.
But I don't know if it's a matter of being able to shop on-line, or that I could download songs or that I simply already own every CD I could want anyway…but I just don't go to music stores anymore.
It looks like in 5 years, the only record stores will either be huge conglamerates like HMV or little record stores where you can find obscure CD and albums like in High Fidelity. Speaking of High Fidelity…it is about to be made as a
BROADWAY MUSICAL
. Wow, just another reason why I hate musicals.
Labels: Music