American justice?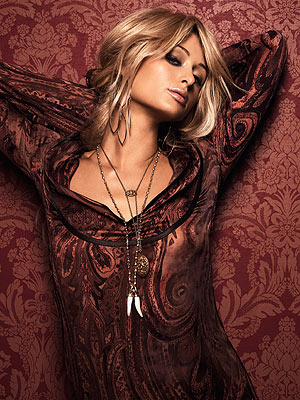 I know I am going to get trashed for this but there is something I am not able to bend my mind around. OJ Simpson is free but Paris Hilton is going to jail for 45 days.
Look, I admit to having a soft spot for her. I don't know why. Yes she is only famous for being famous. Yes she probably released that sex tape with her and Rick Solaman. Yes she can't sing and can't act. Yes she has one look and other than that she isn't that good looking. Blah, blah, blah. She is simply taking advantage of celebrity driven society we live in. You don't like it. Stop watching Entertainment Tonight.
If you don't know what I am talking about,
Hilton has been sentanced to 45 days in jail for violating the terms of her probation by driving with a suspended licence
. Apparently, she was confused as she thought she could drive to work, but nothing else.
The fireworks began right after the sentance was handed down as Hilton's mother Kathy Hilton yelled out to the prosecutors, "You're pathetic". And then sarcastically added, "can I have your autograph?".
Hilton then
fired her long time publicist
(a man who should win awards for being able to keep Hilton in the limelight for so long) Elliot Mintz. He has since been rehired.
Her legal team have appealed the 45 day sentance
. And here's the best part,
Hilton has asked California governer Arnold Schwarzenegger for a pardon
for her sentance.
Top 5 Worst Schwarzenegger films
1. Hercules In New York
2. Junior
3. Jingle All The Way
4. Raw Deal
5. Batman & Robin
So, to review, Paris Hilton going to jail for driving with a suspended licence. OJ Simpson, convicted in a civil court of the wrongful deaths of his ex-wife and her friend, out free.
And speaking of Simpson, he was in the news recently as well. He was in Louisville for the Kentucky Derby this past weekend. With a group of 12 at an upscale steakhouse,
the owner asked Simpson to leave his restaurant because "he is sickened by the attention Simpson still attracts.
Stop me if you've heard this before but Simpson's attorney says the incident was about race and intended to go after the restaurant for refusing to serve his client. I want to say something funny here but no words are coming to me. God bless America.